2020 Vision: Sights set on the Next Decade
It's hard to believe another year has passed and we're into a new decade! Musical Empowerment has made great strides in 2019 and we are excited to celebrate our program, our students, and what's to come in 2020.
2019 Recap: Musical Empowerment has seven chapters throughout the state of North Carolina and one in New Hampshire. Our newest chapter is North Carolina Central University, an HBCU located in Durham. Their partnership with RN Harris Elementary School began this fall and already has nearly a dozen mentor-student pairs. In total, Musical Empowerment students have logged over 6,800 hours of lessons this year. Additionally, students self-reported that their lessons make them feel proud of themselves, talented, and happy.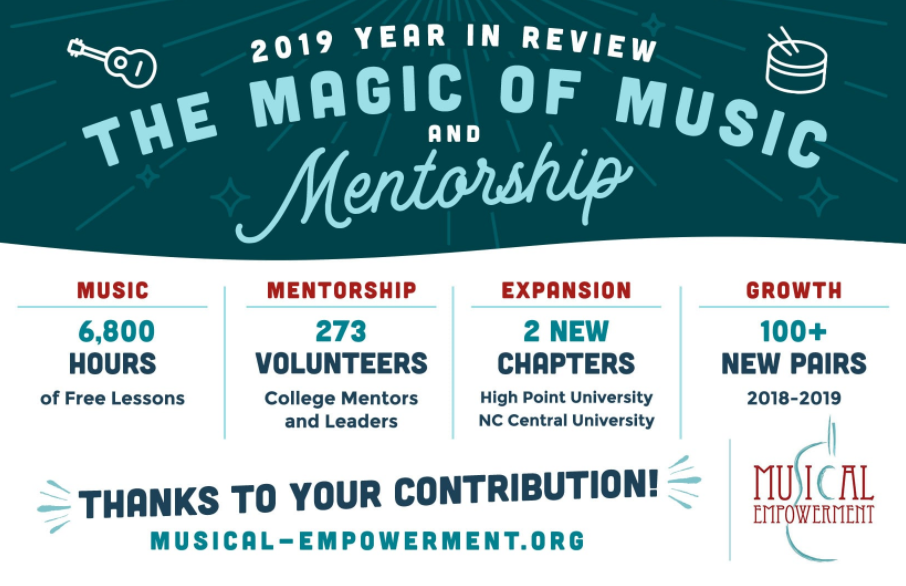 Musical Empowerment believes in the importance of mentorship to inspire greatness. We are committed to providing free 1-on-1 music lessons and mentorship in order to address the gap in arts education and improve access to our communities. Part of our commitment to increase access is reflected in our key highlight of the languages spoken in the program. We are building the capacity to expand translating our family documents into languages beyond English & Spanish.
Overall, things are looking clear for 2020 and we are excited to bring you along for the journey. Support Musical Empowerment by subscribing to our newsletter, following us on social media, and donating to support our program.
Happy Holidays,
From Zenzele Barnes & The National Staff