"Be as dramatic as you can": Teacher-Student Pair Uses Singing as an Emotional Outlet
First-year UNC student and Musical Empowerment teacher Lauren Ragsdale and her vocal student D'Arlene always begin their weekly lessons with warm-ups. Lauren tells D'Arlene to stretch, roll her neck and vibrate her lips. Room 208 of the United Methodist Church soon fills with the sound of chromatic piano scales. D'Arlene,12, matches the pitch of each note, singing "Hee-Hee-Ha-Ho-Ha," and Lauren tells the girl that her stomach should feel like it is bouncing.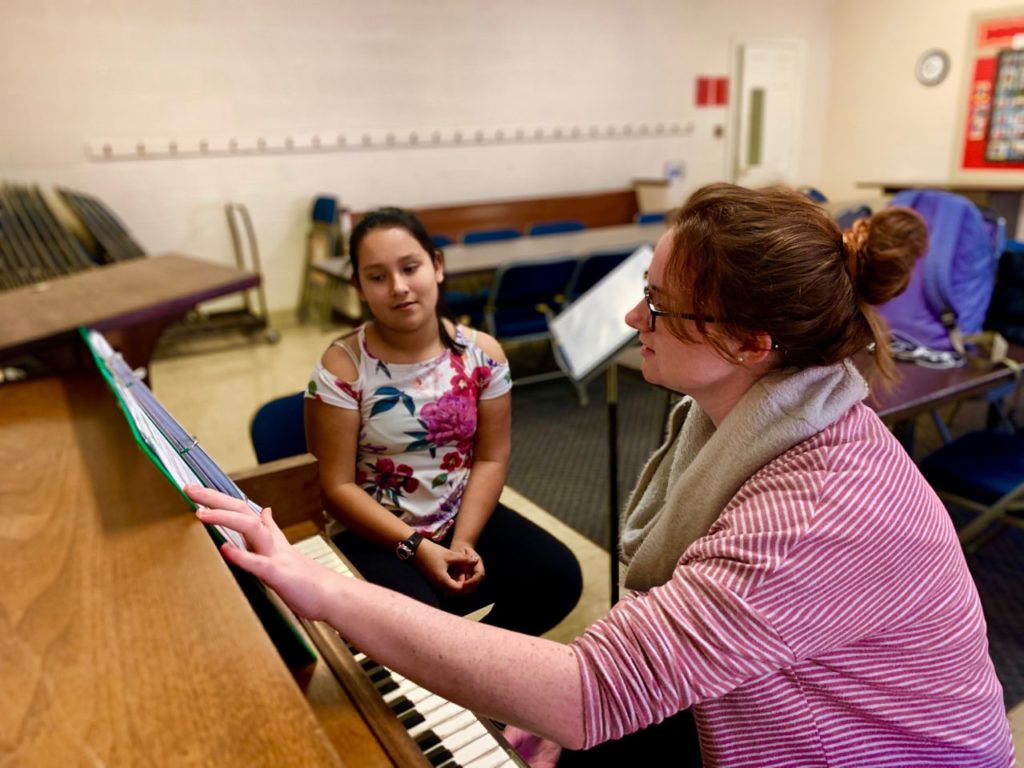 D'Arlene did not always have her heart set on singing. When the opportunity to take lessons with Musical Empowerment arose, her mom made the choice for her. Once D'Arlene started working with Lauren, she realized she truly enjoys taking voice lessons. She said music helps her express herself. "Whenever I'm sad or I'm not really feeling well, I like to sing because it just gets joy into me," D'Arlene said. "It really helps me just get back up."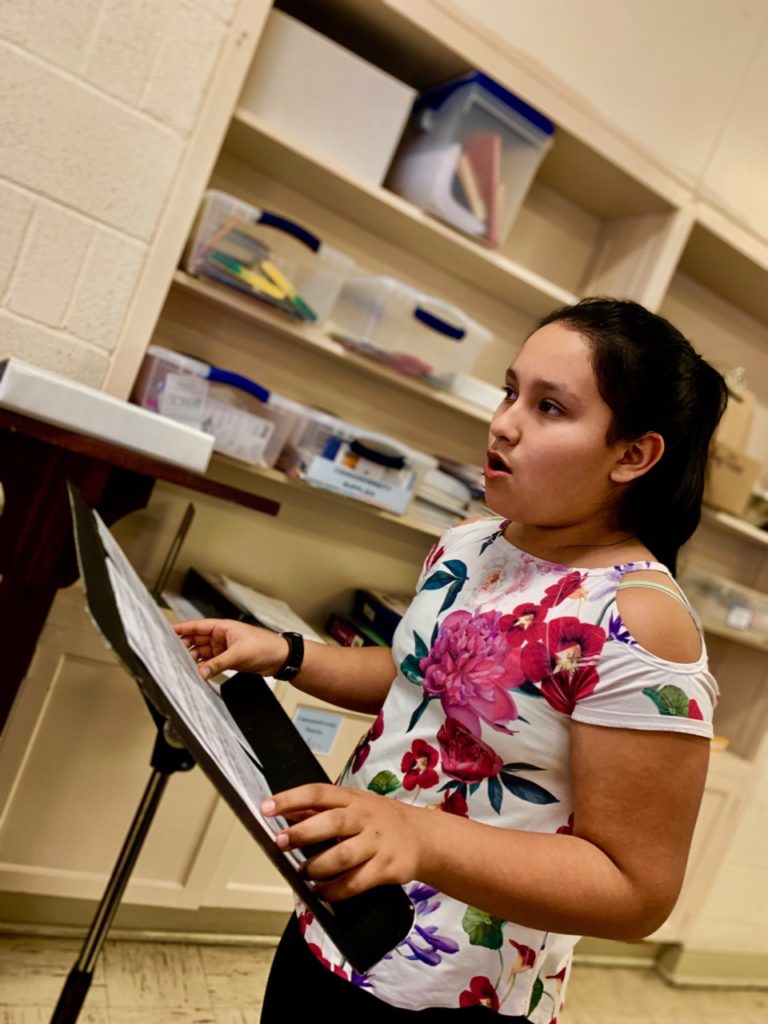 Lauren also loves expressing herself through music. Whenever she is stressed with school, she goes to the practice rooms and plays piano. To her, music is timeless. "There's so many ways it can be done. It never gets old," Lauren said. "You never tire it out, and it's just a very unifying thing."
Lauren is currently majoring in music, and she is considering music education as a career. She said the opportunity to practice the profession you're considering pursuing is rare, and this is one of her favorite aspects of being a Musical Empowerment teacher. "It's so cool to have your own student, kind of mentor them in music and teach them the ways that you perceive music," said Lauren. "Because a lot of times music is very abstract."
Unlike her own music teachers who have had years of training, Lauren is in the midst of this learning process. She said this is the biggest challenge she experiences. Nevertheless, Lauren comes to her lessons with D'Arlene well-prepared, with a green binder full of lesson plans in hand. She knows her student well. When given a choice between singing "Part of Your World" from The Little Mermaid or "Someone Like You" by Adele, Lauren instinctively guessed that D'Arlene would choose the latter. Lauren encourages D'Arlene to be confident in herself, promising her that she is never "overdoing it" with her volume or range as much as the young girl believes she is. "Be as dramatic as you can," Lauren said. "Be so dramatic that I'm gonna be like 'D'Arlene calm down!'"
D'Arlene appreciates the supportive learning environment that Lauren creates. "Something that I like while working with you is that whenever I mess up, you don't say anything, because I mess up a lot of times," D'Arlene said to Lauren. For Lauren, this is a purposeful and important part of her teaching style. "That's a big thing I want music to be to a lot of people," Lauren said. "To not focus so much on the parts where things go wrong."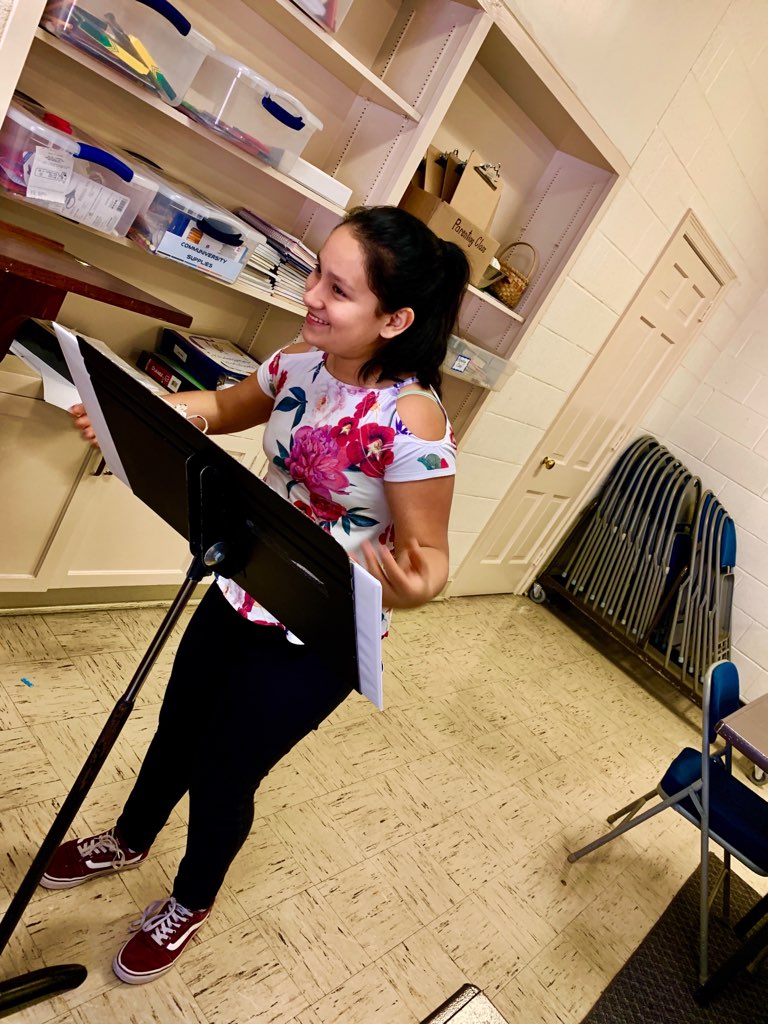 To Lauren, what distinguishes Musical Empowerment as an organization is that it provides such a wide variety of free music lessons, which are usually very expensive. She remembers her own vocal lessons being particularly costly. She also believes the individualized aspect of one-on-one lessons is important. Oftentimes, even if students have music classes in school, they are usually too big. Students do not have the opportunity to sing to a teacher and receive personal feedback.
D'Arlene agreed with her teacher, and said that music lessons help children engage in an important process of self-discovery. "I think it's important because kids who are like me get to learn new things and get to know what they actually like," D'Arlene said. "And if they don't like music then they'll know that, and if they do then maybe they'll know something that they never would have known. And I think Musical Empowerment does that."