Hello, It's M.E. Pair Marissa and Taniya
Teacher-Student Spotlight
After hearing "Hello" on the radio and appreciating its strong melodic chorus, Taniya Rogers,10, decided she would learn to play it for Musical Empowerment's spring recital. Marissa Cranford, Taniya's piano teacher and junior at UNC, said Taniya told her shortly after the fall recital about her intentions to perform her new favorite song at the recital in April.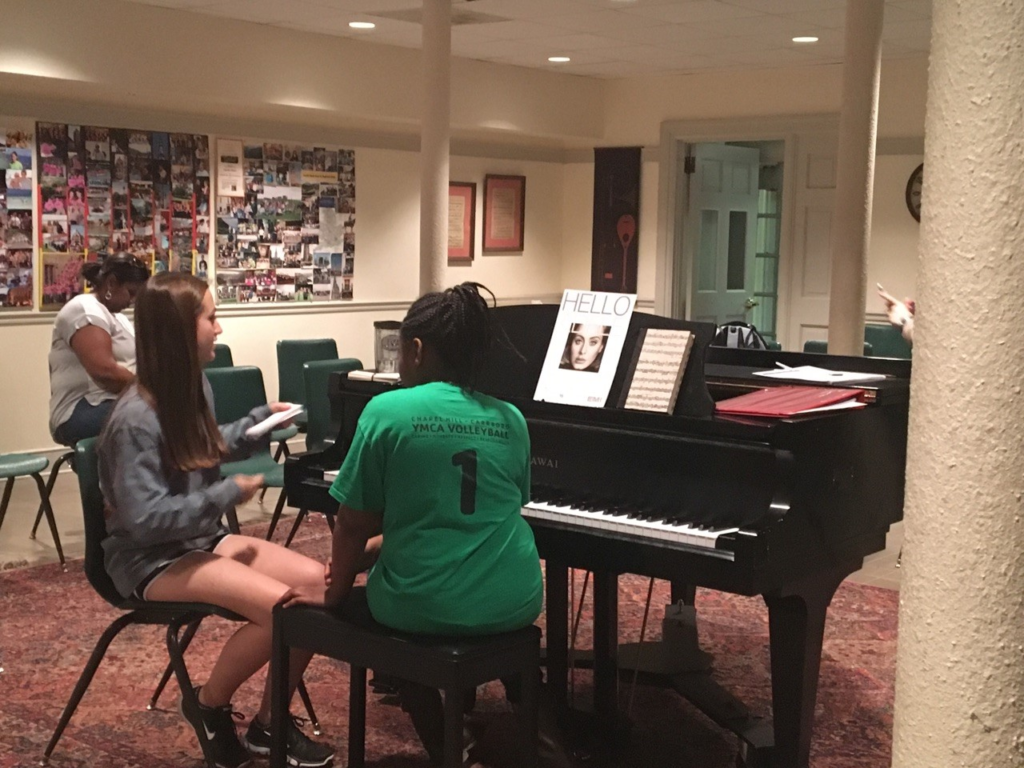 "I picked it. When I listened to that song, I thought it would be cool to play on the piano," said Taniya. "Hello" is chord-heavy and may seem difficult for many older, more experienced musicians to play. However, through Musical Empowerment, Taniya gained the confidence to try and realized that through practice and goal-setting, she could perform the song even though she has only played piano for two years.
Marissa is a music major and will be president of the UNC chapter of Musical Empowerment for the 2016-17 school year. She has experience with goal-setting and making plans to achieve them. Marissa and Taniya came up with a plan to recreate the "Hello". Marissa said the plan involved breaking the song into small parts so it did not become overwhelming or seem impossible. Marissa and Taniya worked on a part every Tuesday when they met together to practice. Once Taniya learned a new part, she would combine it with the previous parts and play them all together.
Taniya described playing the piano as both "easy" and "sort-of challenging". She said Marissa helped her work through some of the most challenging aspects of piano playing and performing. "I'm learning how to read music. There are a lot of cool sayings that she has taught me and books [she has given me] to make it fun," said Taniya.
Taniya initially thought "Hello" was too difficult for her but with time and practice, it became easier to play. "She was very frustrated when she first started working on the song," said Marissa, "We worked through it and changed the way she practicing." Taniya optimized her 40 minutes per week with Marissa by rehearsing more at home. She was able to work on new and more difficult parts with Marissa and perfect what she had already learned at home.
Taniya said Marissa inspires her to keep working hard and that she hopes to be able to play as well as her one day. Taniya learned basic piano skills from Marissa without feeling belittled or incompetent. "With some people I'm embarrassed but with Marissa I'm not," said Taniya.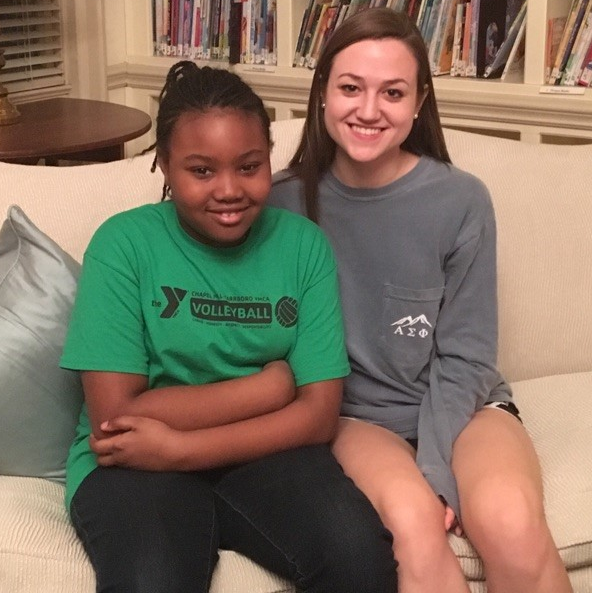 Taniya said Marissa also taught her how to be confident on stage and get over her fear of performing. Although Taniya was energized by the thought of the recital, she hoped her nervous feelings would not interfere with her ability to play. "[Recitals] make me nervous all of the time because I have stage fright. Especially the first one. I've gotten more confident since then," said Taniya.
Taniya said once she started to practice with Marissa and open up to her, she found it easier to play in front of larger crowds. Taniya's mother, Tammi Thomas, also believes that Taniya and Marissa have a unique relationship that helps them to be successful together.
Marissa admires Taniya's persistence and willingness to learn. Marissa said teaching Taniya is fun because she is always open to trying new ways of learning. "I love Marissa as a teacher. I love that Taniya is comfortable with her," Tammi said. Outside of piano, Taniya's favorite activity is volleyball at The YMCA in Chapel Hill. Her schedule also includes cheerleading and being mentee in the United Way mentorship program.
When asked about her future with piano, Taniya said, "I want to keep doing it as long as I can because I love it."