One Year Later, Karla and Daniela Continue to be Leaders in Music
To read our first story on Karla and Daniela from January 2016, click here.
About four years ago, Musical Empowerment student Karla came very close to giving up playing the violin. She had no motivation to practice at home, causing her to progress slowly. At the time, Karla was in third grade and blames her age and immaturity for her lack of inspiration to play violin. Her Musical Empowerment teacher, Daniela Decristo, admits that she grew extremely frustrated with Karla but never gave up on trying to convince her that mastering the violin was a valuable skill she would appreciate later in life.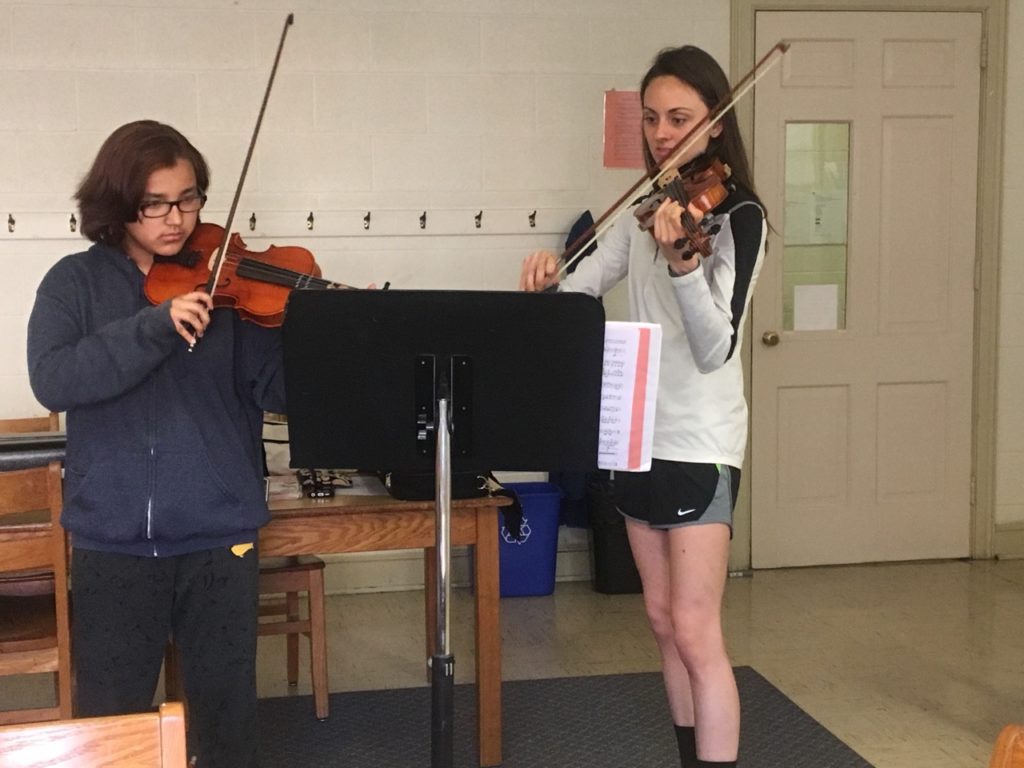 Daniela said having a skill outside of academics is invaluable. "Being able to play the violin is something I am glad I know how to do and I want the same for Karla," she said.
Karla's bad habits went on for a few months. Karla said once she realized the benefit of playing violin, lessons and practicing became less of a chore and more of an enjoyable activity. Neither Daniela nor Karla can remember exactly what was said or done that made Karla's motivation for violin reemerge, but they are both happy they are able to share the joy of playing the violin.
Even though most of UNC's Musical Empowerment teachers are undergraduate students, Daniela has continued to work with Karla since she graduated and moved on to genetics research at UNC's School of Medicine. Daniela said it was important to her to continue working with Karla since she would still be living in the area. Daniela did not want to let go of the bond they formed and thought Karla would benefit from the consistency of having one Musical Empowerment teacher.
Now Karla, who is in seventh grade, is a outstanding member of the orchestra at Phillips Middle School.
Karla's mother, Eloisa, said she sits in on Karla's lessons with Daniela just because she loves to watch her play. Her eyes light up as she talks about how much she enjoys watching Karla play with her middle school orchestra. Her smile never leaves her face as she talks about Karla's progress.
"Her orchestra teacher tells me every time she sees me about how amazing Karla is," said Eloisa. Eloisa said Karla's orchestra teacher is constantly mentioning how great Karla is, not only at playing the violin, but also at working in groups and teaching her peers.
Karla said she thinks her lessons with Daniela have given her an advantage in orchestra. She is able to be a leader at school and help her friends with their technique by using methods Daniela taught her.
"[Musical Empowerment] is great because it gave Karla a start in music when she was young. Daniela is a great teacher. It has helped her a lot in orchestra at school," Eloisa said.
Daniela and Karla exemplify how leadership and persistency from both a student and teacher can revitalize an interest in learning. Continue reading the Musical Empowerment blog to stay updated on Karla's progress as she continues to fall in love with the violin.