Teacher-Student Spotlight
"Wait, you're going to be doing what?" UNC-Chapel Hill senior Ryan turns and asks his student, Cesar. Cesar just announced he'll be the lead piano player for a production of The Lion King at St. Thomas More Catholic School this winter, which Ryan said came as a delightful surprise to him since Cesar did not bring it up in his lesson that night.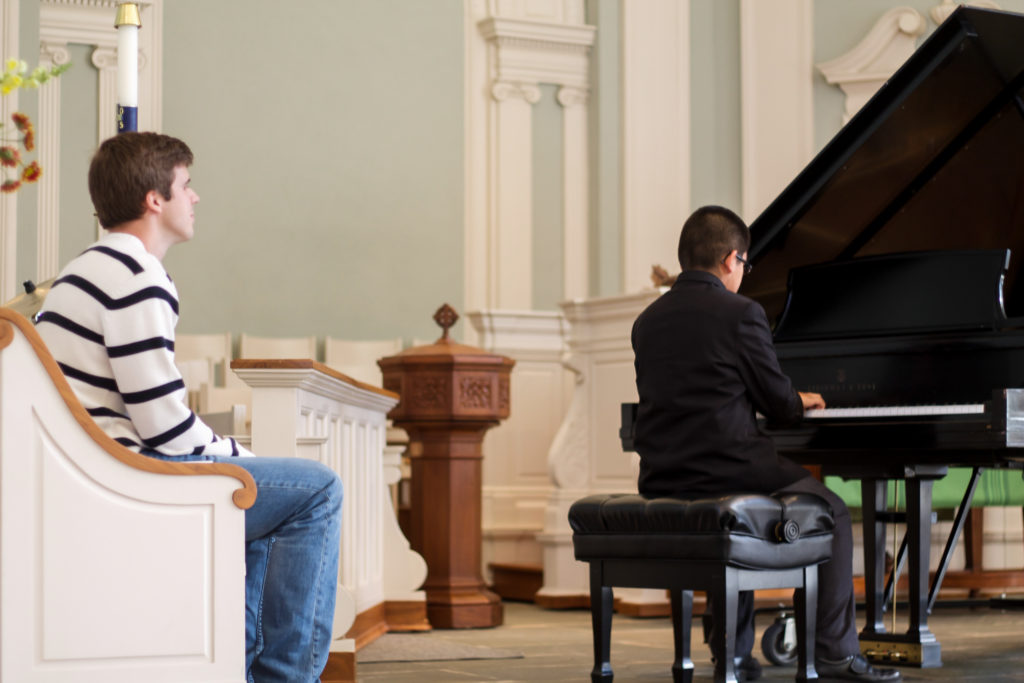 "I am the pianist in band and I was given a song that's five pages long for the audition," the seventh-grader says as Ryan looks at him in awe. "I was nervous but not that nervous," Cesar said when asked about having to play a lengthy piece for the audition. "Ryan has helped me to become confident playing in front of a lot people…I would have been more nervous [a long time ago] but not anymore."
After learning this exciting news, Ryan immediately asked Cesar to bring in the music the following week so they could begin practicing it at their lessons.
*****
The stability of Ryan and Cesar's partnership has endured even though Ryan studied abroad in Copenhagen for all of last school year. Cesar also took a break from piano spring semester. They resumed lessons late this summer. The pair built a strong relationship, both musically and personally, so they agreed that it felt natural jumping back into lessons, despite both being away from the piano for a while.
Even though Ryan described studying economics at the University of Copenhagen as one of the best times of his life, he missed his time with Cesar weekly lessons with Cesar.
Ryan is co-president of Musical Empowerment for the Fall 2017 semester. He said it was an adjustment to come into such a demanding role and resume lessons with Cesar after being away for so long. "We kind of just started off again, like we just came back from a short vacation," Ryan said.
Cesar said Ryan is currently teaching him about time signatures and how to build speed. The pair has a ritual at the end of each lesson in order to wind-down and reflect on what they have practiced: "We always end our lessons with improv and have a jam session," Cesar said.
The jam sessions consist of Ryan and Cesar playing together with no specific sound in mind. Cesar said he tries to incorporate skills he is working on into the improv sessions. It is a great way for him to apply what he has learned in lessons but without a lot of pressure. He is less focused on making mistakes because he does not have to adhere to a set pattern or song. Cesar and Ryan agree this is the part of lessons they most look forward to each week.
Ryan has spent time getting to know Cesar's family outside of class by having meals with them and simply spending time after lessons talking to them.
"Cesar's family is very supportive. They always let me know they are appreciative of me by telling me or buying me little gifts. They even got me a sweater for Christmas once," Ryan said.
Cesar's parents agree Ryan has been a great teacher and role model for their son.
Ryan and Cesar have a lot to catch up on this semester and we look forward to providing updates about the pair and Cesar's role in his school musical.