Wake Forest Students Teach Music (and More) to Some of the Area's Most Deserving Children
WINSTON-SALEM, NC, March 22, 2017—Musical Empowerment, founded by North Carolina college students to offer mentoring and music lessons to low-income school children, has launched its third chapter – at Wake Forest University. Begun and based in Chapel Hill, Musical Empowerment's newest chapter has already enrolled 9 under-served children attending Speas Elementary School in Winston-Salem, and expects to add more soon, according to Wake Forest chemistry major, KyungMin Yoo, the chapter's founder and first president.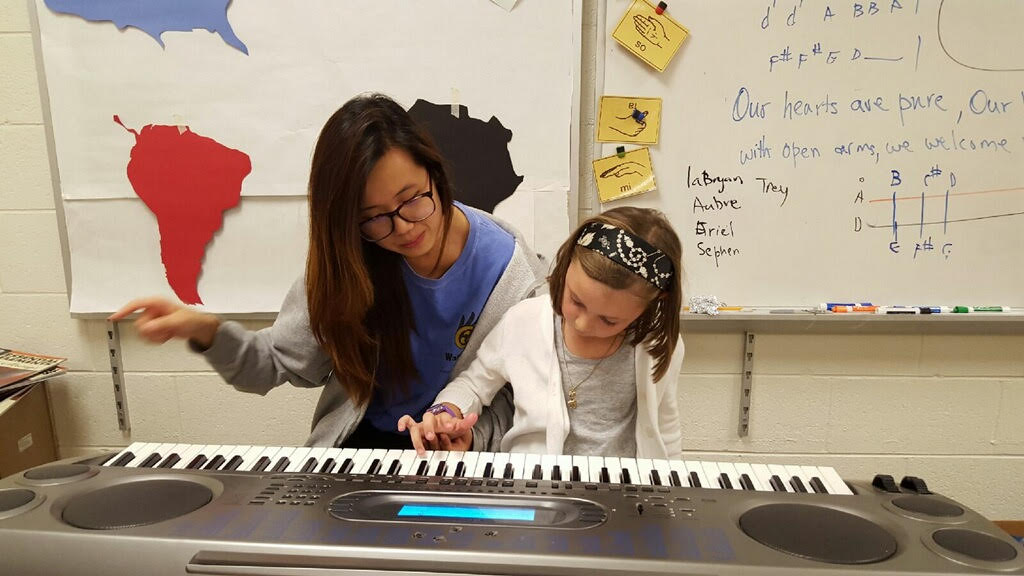 "The UNC-Chapel Hill and NC State programs have grown to serve over 140 under-served children from the Chapel Hill, Carrboro, and Raleigh school systems this year, and the launch of the Wake Forest University chapter helps extend our reach to communities throughout North Carolina and across the country," said Executive Director Meredith Richard.
In the words of its mission statement, "Through free, one-on-one music lessons, Musical Empowerment at Wake Forest University nurtures meaningful relationships between collegiate mentors and under-served children in Winston Salem. These relationships foster a shared love of music and learning that builds a foundation of confidence, creativity and self-discipline to engender growth and success in both mentor and mentee."
The founder and president of the Wake Forest chapter, KyungMin Yoo, explains the importance of this particular organization at the institution as well as in the community:
"Wake Forest University's motto, Pro Humanitate (for humanity) is demonstrated by the institution's heavy involvement in community service activities across many disciplines. However, prior to the establishment of this organization, Wake Forest lacked a program that provides opportunities for college students to simultaneously express their musical talents and give back to the community. Therefore, Musical Empowerment is a perfect addition that not only offers young students the values from music education without the financial limitations, but also allows college students to be mentors and give to others what they had once received."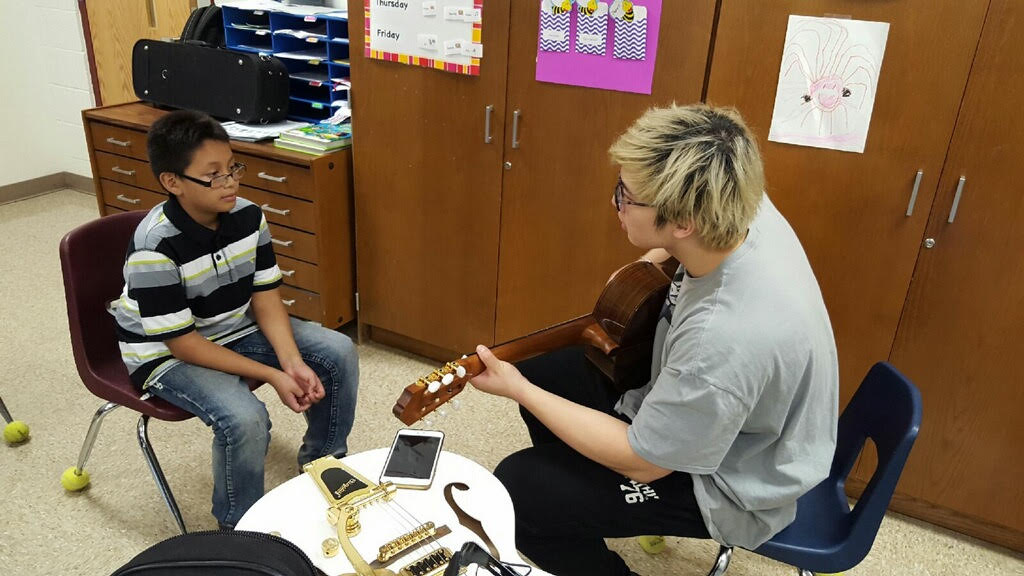 Musical Empowerment at Wake Forest University has been providing nine students ranging from 7 to 10 years old at Speas Elementary School with violin, piano, and guitar lessons since November 2016. Many of the collegiate mentors are teaching music for the first time and say they are excited about the progress in their lessons thus far.
"It's really meaningful to use my skill to empower others. It's been a pleasure to see my student developing enthusiasm towards piano and having a good time learning," comments Steven Ma, 2nd year student at Wake Forest University and piano teacher. Likewise, Brandon Liu, 3rd year student and piano teacher, describes what this program means to him, "[it] is a wonderful program that has gotten me involved with music again and helped me grow as an individual. Music is about expression and there is a lot that can be taught and learned through it."
The public is invited to a free spring recital to showcase the progress of the program's students. It will be held on Saturday, April 22nd at 3pm in Davis Chapel on Wake Forest University's campus. Chapter president Yoo remarked, "It's always exciting to see young music students show off what they have learned to play, and it's wonderful to see the pride their parents and their teachers take. But what is really amazing is that these are kids who might never have had a chance to learn or to perform at all if it had not been for the volunteer efforts of my fellow WFU students and the guidance from Musical Empowerment."
Sophie Leruth, a second year student, said enthusiastically, "Musical Empowerment has proven to be a vital way to connect children and families of the Winston-Salem community to the Wake Forest University community."
Musical Empowerment
Musical Empowerment is a 501(c)(3) non-profit based in Chapel Hill, NC that pairs under-served children from the local community with collegiate mentors who volunteer their time by providing free music lessons. Music teachers and social workers in the local school system identify and refer students who have the potential to benefit from the program. Established in 2002 as a student organization at UNC-Chapel Hill, Musical Empowerment now has three chapters at UNC-Chapel Hill, NC State, and Wake Forest University which offer over 150 weekly lessons at local churches and elementary schools. The University United Methodist Church in downtown Chapel Hill, Holy Trinity Lutheran Church in Raleigh, and Speas Elementary in Winston-Salem graciously donate safe spaces for the music lessons.
Musical Empowerment provides opportunities for students to learn music and, more importantly, life skills including responsibility, discipline, and confidence. The program also aims to spark the beginning of a life of engaged public service for UNC-Chapel Hill, NC State and Wake Forest undergraduates. We believe music education plays a significant role in society by contributing to the development of compassionate, intelligent, and well-rounded individuals. Music is communication that transcends barriers and encourages people to effectively collaborate with others and become citizens of a global community.